We offer a wide variety of products and services: from safes, absorption minibars, electronic and contactless access locks, bathroom accessories, to installation of industrial kitchens and lighting, all under the supervision of a technical design and renovation team offering, therefore, a comprehensive service to hotels.
For a greater identification of the products as well as a better implantation in the market, Solsegur has launched a new commercial brand: TEGGA and TEGGATECH, for minibar products, bathroom accessories and the last one, for products with technological content, maintaining the SGbrand for all your safes.
We have experience in the minibars maintenance and technical service sector for more than 30 years, working with the main hotel companies both in Spain and abroad.
To guarantee the quality and better use of our products, a technical service network has been created throughout Spain and abroad where the following services are offered:
Unique Service · Speed · Commitment · Proffesionalism
We manage the rental of the safes in the rooms of some 15 hotels located in different parts of Spain.
To improve this business, Solsegur began to market a safe model ideal for rental, the SG RENT ATLANTIC, an electronic safe that is activated by an internal key that replaced more obsolete systems such as the activation by a removable lock, or the system by magnet.
The INVESTMENT AND COST, as well as the installation of the safes is assumed by Solsegur, therefore, zero cost for the hotel establishment.
Both parties sign a contract where the duration of the contract is established as well as the percentages of the collection of the rent of the safes.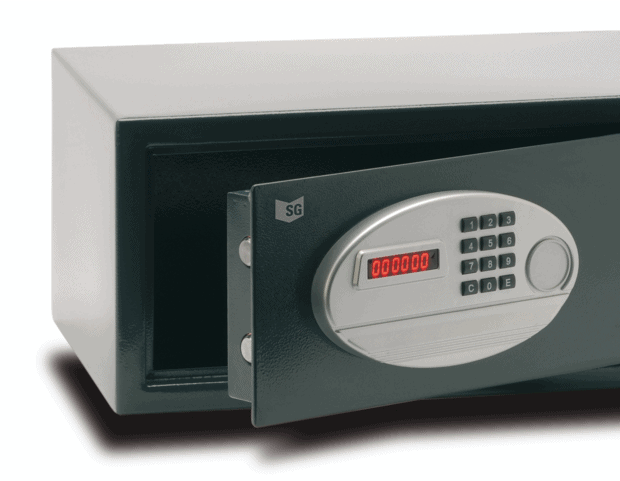 Since 2007 it has been the official supplier of Hotusa, a purchasing and services center with more than 2000 associated hotels in Spain and abroad.
Solsegur Ekipa has worked and works with such important hotel companies as Meliá, Barceló, Eurostars, Fiesta Hotels, Marina Hotels, Best Western, Blau Hotels, Artiem, Hoposa, OC Hotels, Sheraton and Decameron, among others.

Among our latest projects, the facilities in the following hotels stand out:
Safes and minibars:Hotel Dalí (Mallorca), Hotel Zurbarán, Hotel Princesa Playa (Menorca), Hotel Atlantic (Magalluf, Mallorca)
Safe boxes: Hotel Meliá Benidorm, Hotel Maya Alicante, Hotel Don Pepe (Mallorca), Hotel Daina (Mallorca), Hotel Uyal (Mallorca), Hotel Best Western (Madrid), Artiem Madrid.
Minibars Tegga: Hotel Conde Rodrigo (Salamanca), Hotel Rosamar (Benidorm), Hotel Panorama Estartit (Girona), Art Suites by Casa de Indias in Puerto de Santa María, and in Riad de deux Mers (Marrakech).
The most recent project has been the installation of safes and minibars at the Barceló Granada Congress hotel
COMMERCIAL AND DISTRIBUTION NETWORK
The commercial and distribution network has been improved: the logistics and distribution center for the entire peninsula is located in Ribarroja (Valencia), with the near port as an export center.
Apart from its central offices in Palma de Mallorca (Balearic Islands), the company has branches in different tourist areas of Spain: Benidorm and Murcia (Levante area), Torremolinos (South area), Tenerife (Canarias area), Almendralejo (West area and Portugal) and Madrid (central and northern zone).