We work on the development of a boutique hotel brand in unique locations, offering a totally customized and sustainable service.
Our boutique hotels will be establishments with two unique characteristics: personalized customer service and sustainability, also adopting a social commitment in the locality that we find ourselves to help as much as possible to the improvement and socialdevelopmentof the most disadvantaged local communities.
In our hotels, the client will choose how they would like to enjoy their room, what services they would like to receive at the hotel and, ultimately, feel at home in a unique environment.
In addition, all our hotels will scrupulously comply with the commitment to respect sustainability, we will use all materials and adopt all measures that respect the environment as well as local traditions.
Opened in November 2018 in the wonderful city of Marrakech (Morocco).
MIX OF ESSENCES AND SENSES
It is a riad located in the heart of the Medina, near the Place des Épices and a 10-minute walk from the magnificent Jemaa
El Fnaجامع الفناء, and a few meters from the Museum of Marrakech.
The riad is a mixture of essences and unique senses in a city that immediately captivates.
It has 5 rooms; 2 doubles, 2 triples and 1 quadruple, with an open Arabic-style patio and a terrace where you can enjoy unique views of the entire Medina.
We offer all kinds ofinternationaland especially Moroccan foo, and prepare special celebrations.
Our goal is for the client to enjoy a unique experience. For that reason, we offer excursions to the desertand to other sites near the city of Marrakech.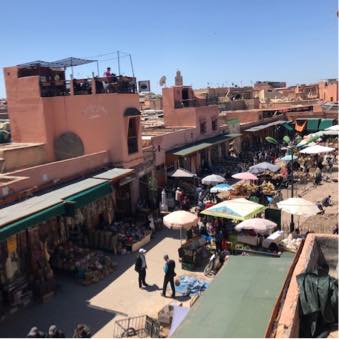 COMMITMENT TO SUSTAINABILITY AND TO LOCAL SOCIETY.
We allocate 10% of the income to help better development of the rural areas of the Marrakech region.